Customize your dog tag with a simple touch screen interface.
The screen interactively guides the customer through the exciting process of creating his or her unique and personalized authentic American dog ID tag. An amazing experience from beginning to end, and one they will be sure to talk to their friends about! Customer can type 14 characters for 5 lines.
The guts of theDog Tag Vending Machine
MDT500 HE dog tag machine is a rugged, reliable combat proven dog tag embossing machine. This built tough machine deployed by the US Military worldwide including Iraq and Afghanistan. Your customer will get the same military dog tags used by the US Army, Navy, Marines, and Air Force.
Dog Tag Vending Machine Accessory Pack
The dog tag vending machine accessory pack contains a dog tag silencer (rubber cover that goes around the dog tag) and two ball chains (1 each 4.5" and 24"). The accessory pack box can be personalized with custom graphics and messages if desired.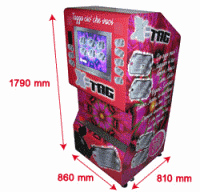 Dog Tag Vending Machine Specs.
Dimensions: Height: 71" x Width: 32" x Depth: 34"
Power supply: 120V, 60Hz
Weight: 483 lbs
Dog Tag Vending Machine magazine capacity: 250 tags.
Accessory kit magazine capacity (chains + silencer): 180 packs.
Consumption: 250 W
We offer the option to add a custom wrap to the outside of your dog tag vending machine for extra sizzle and brand awareness.